True Black
Signature Hair Gloss - Black Iris
$15.00
I always recommend that my clients come to get glossed and toned between salon visits to extend the life of their color. I'm finally able to give them, and you, something that is easy to use at home. This in-shower treatment is formulated to instantly boost vibrancy and shine, while adding true black tone to color treated or naturally dark brown or black hair. It will help you keep your color looking fresh, shiny and healthy between appointments.
SELECTING YOUR SHADE: Choose this color if you have dark brown or black hair and want to add true black tone. Not sure what your shade is? Find out here.
True Black
Signature Hair Gloss - Black Iris
$15.00
"Who needs this? Anyone with dark brown or black hair looking to add cool black tones + enhance shine."
Kristin Ess
How To
Wet hair thoroughly in the shower.
Mix bottle 1 and 2 together, shake gently and apply all over.
Wait 10-20 minutes, depending on the result you want, then rinse thoroughly.
Shampoo and condition as usual.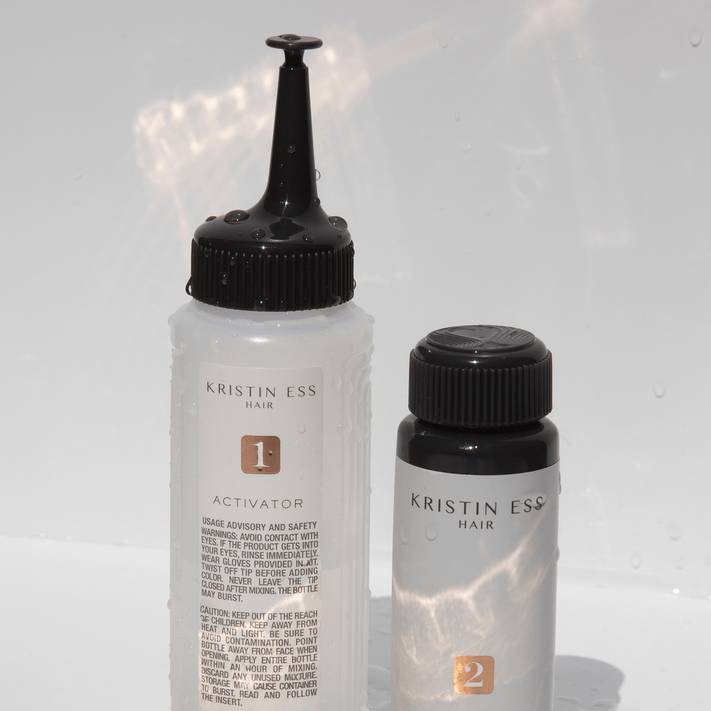 Features
Tone enhancing, shine boosting, silicone-free + ammonia-free, lasts 3-4 weeks, color + keratin safe, for all hair types, single application.
VIBRANCY BOOSTING TECHNOLOGY
Creates a protective shield over the hair to instantly boost shine and help lock-in your color.
ANTI-OXIDANT COMPLEX
Smooths and softens hair from root to tip making hair more manageable.
ALKALINE NEUTRALIZING SYSTEM
Protects from color fading by preventing hard water minerals from being deposited onto the hair and scalp.
Kit Contains
1 x Kristin Ess Signature Black Iris Gloss Bottle
1 x Kristin Ess Signature Gloss Applicator Bottle with Activator
Instruction sheet with plastic gloves
WHO NEEDS THIS?
Anyone with dark brown or black hair looking to add cool black tones + enhance shine.
WHAT IS IT?
In-shower treatment that nourishes strands and restores vibrancy.
WHEN DO I USE IT?
In between salon visits or anytime your hair color needs a boost.
WILL IT COVER GREY HAIR?
Ammonia-free formula will not lift, lighten or cover greys.
IS IT PERMANENT?
Color lasts 3-4 weeks and will gradually fade, depending on how often you shampoo.
FAQS
CAN CAUSE AN ALLERGIC REACTION. FOLLOW THE USAGE ADVISORY.
Cruelty-Free
Kristin Ess is a cruelty-free brand and we're committed to being cruelty-free. This means we do not test on animals at any stage of product development, and we will only work with vendors who uphold the same standards. We are proud to share that our products are certified cruelty-free by PETA's Caring Consumer program.
Made in the USA
view all ingredients
KRISTIN ESS SIGNATURE GLOSS TONER: Water (Aqua/eau), Isopropyl Alochol, Sodium C14-16 Olefin Sulfonate, Olelyl Alcohol, Propylene Glycol, Lauryl Alcohol, Cocamidopropyl Betaine, Cocamide Mipa, Deceth-4, Toluene-2,5-diamine Sulfate, Ppg-2 Butyl Ether, Cetearyl Alcohol, Dicetyl Phosphate, Ceteth-10 Phosphate, Resorcinol, Ethanolamine, Sodium Sulfite, Fragrance (Parfum), Disodium Edta, Disodium Etidronate, 4-ethoxy-m-phenylenediamine, 1-naphthol.
KRISTIN ESS SIGNATURE GLOSS ACTIVATOR: Water, Hydrogen Peroxide, Phosphoric Acid.
Please note, ingredient lists may change any time a product is updated. Always check packaging to get the most accurate list of ingredients in each product.
USAGE ADVISORY - SAFETY WARNINGS
IMPORTANT: HAIR COLOR CAN CAUSE AN ALLERGIC REACTION WHICH IN CERTAIN RARE CASES CAN BE SEVERE. THEREFORE, YOU MUST FOLLOW THESE PRECAUTIONS.
DO NOT USE IF:
You have already had a reaction to a hair color product.

You have a sensitive, itchy or damaged scalp.
IF YOU HAVE A TATTOO: THE RISKS OF AN ALLERGIC REACTION MAY BE INCREASED. PERFORM A SKIN ALLERGY TEST 48 HOURS BEFORE EACH USE OF THIS PRODUCT (see insert). REMEMBER TO BUY YOUR PRODUCTS 2 DAYS AHEAD OF TIME.
Avoid contact of this product with eyes and skin.

If product gets into eyes, rinse immediately.

Wear gloves provided in kit.

Thoroughly rinse hair after application

Do not use over compound henna or progressive color.

Wait at least 14 days after bleaching, relaxing, perming or straightening before coloring.

Keep product out of reach of children. Do not apply on children.
CAUTION: THIS PRODUCT CONTAINS INGREDIENTS WHICH MAY CAUSE SKIN IRRITATION ON CERTAIN INDIVIDUALS AND A PRELIMINARY TEST ACCORDING TO ACCOMPANYING DIRECTIONS SHOULD FIRST BE MADE. THIS PRODUCT MUST NOT BE USED FOR DYEING THE EYELASHES OR EYEBROWS; TO DO SO MAY CAUSE BLINDNESS.
These two bottles are designed only to be used together. Do not mix with an alternative activator. This gloss can stain your shower.
READ AND FOLLOW INSERT.
STORE BETWEEN 50˚F AND 80˚F.